All branding, logos, product packaging, websites, text content, technical  and medical writing, store design, store decor, signage, pamphlets, fliers, ads, marketing campaigns, social media, info graphics and public relations for Hero's Pets, and innovative pet supply store owned by my family.
Original logos including lighted storefront signage. Text portions created in Illustrator with effects in PhotoShop. "Hero" character originally painted in oil on watercolor paper.
Web design, graphics and text content for entire herospets.com website. Graphics created in Adobe Illustrator and PhotoShop. Site built in WordPress.
Social Media graphic promotion for ThanksGiving Day created in Illustrator. Text and graphic content created by me.
Holiday promotional "advent calendar" painted in PhotoShop based on actual products.
Exterior of trifold "Welcome" brochure.
Seal of Approval rating system for featured products in store. Created in Illustrator
1 of 3 window clings for the storefront. Painted in PhotoShop. Background from stock. Icons done in Illustrator.
2 of 3 window clings for the storefront. Text elements created in Illustrator and finished in PhotoShop.
3 of 3 window clings for storefront
Branding sign for behind the counter, painted in PhotoShop. Below is one of 7 hand painted acrylic "quote" decorations I created on mounted canvas.
Vector Info graphic created in Illustrator for in store use.
Part of a series of promotions for an annual event. Vector graphics and text created in Illustrator.
Community board flier created in PhotoShop.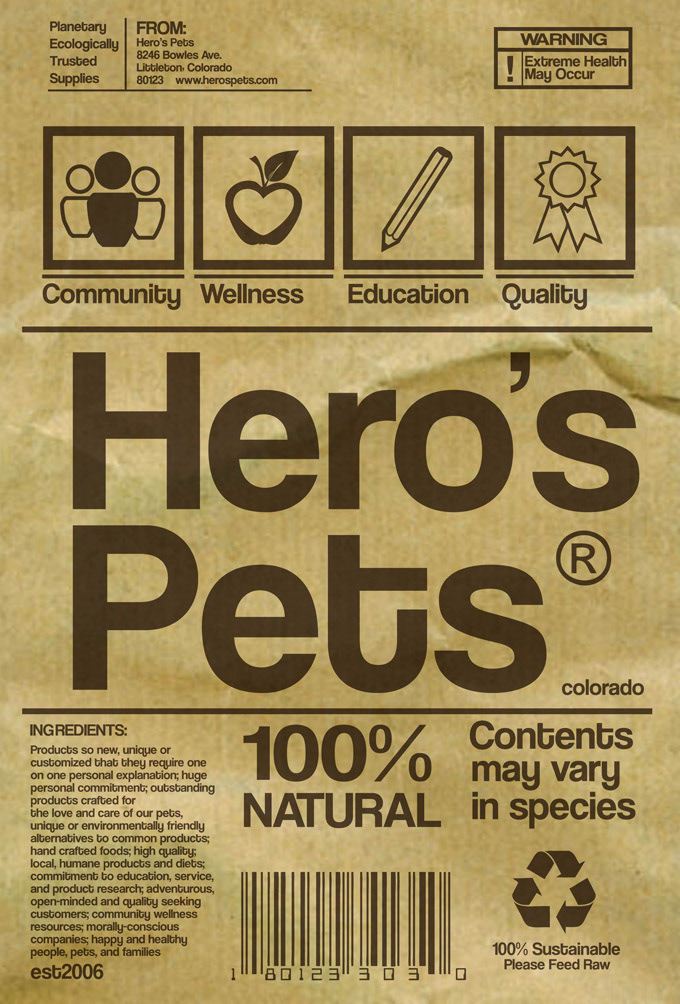 2 of 5 graphic inserts for an educational newsletter. One of dozens of newsletters I've created for Hero's Pets.
Adaptation of several photo (brochure) elements for social media.
Holiday Magazine Ad. One of many seasonal ads created in PhotoShop.
Holiday social media post. I do all the social media, including graphics, text content, public relations and SEO for Hero's.
Holiday coloring book page drawn in Adobe Illustrator.
One of many seasonal social media graphics.